Lieutenant Alexander Colton and February Owens were high school sweethearts. Everyone in their small town knew from the moment they met they were meant for each other. But something happened and Feb broke Colt's heart then she turned wild and tragedy struck. Colt meted out revenge against the man who brought Feb low but even though Colt risked it all for her, Feb turned her back on him and left town.
Fifteen years later, Feb comes back to help run the family bar. But there's so much water under the bridge separating her and Colt everyone knows they'll never get back together.
Until someone starts hacking up people in Feb's life. Colt is still Colt and Feb is still Feb so the town watches as Colt goes all out to find the murderer while trying to keep Feb safe.
As the bodies pile up, The Feds move in and a twisting, turning story unravels exposing a very sick man who has claimed numerous victims along the way, Feb and Colt battle their enduring attraction and the beautiful but lost history that weaves them together.
My rating: 4 of 5 stars
Great cast of characters in this romantic suspense of reunited childhood sweethearts and a killer who is exacting revenge on those he thinks wronged the heroine from high school to present day.
Twenty one years ago things went bad for Alex Colton and February Owens who had known each other since she was 5. After the destruction of their relationship Feb's life spiraled out of control. She married a man that abused her and after leaving him she decided to leave her friends and family and wonder from state to state. After her parent's retired she decides to come back to help her brother run the family bar. Then one morning coming into work Feb finds a body in the alley behind the bar. This sets off the search for a killer targeting people Feb was either friends with or knew.
Feb has never dealt with or talked about what happened 21 years ago. By the killer targeting those around her this forces changes within her family and also for her and Alex to come to terms to what really happened all those years ago.
The killer was appropriately labeled "whacked" in the book and that for sure accurately describes his reasons for doing what he is doing. The author did a great job of giving us clues throughout the story with us finding out a lot of things at the same time the characters did so you were shocked right along with the characters.
From the opening murder to the final confrontation with the killer to Alex and Feb working through there issues in between you are on the edge of your seat wondering what is going to happen next.
Violet Winters once had it all but lost it when her husband was murdered by a criminal madman. During a cold winter night Violet has to leave her warm bed to tell her neighbor to turn the music down. And that's when she meets sinister, scarred, scarily attractive security specialist, Joe Callahan.
She wants to deny it, but Violet can't beat back the hunger she feels for Joe so she gives in again and again. Feeling it himself, Joe feeds Vi's hunger, breaking his own rules to keep her in his bed.
Even though Violet had only one man in her life, she's sure Joe is giving her the signals and Vi decides she's ready to take a second chance at life and, maybe, love. But Violet doesn't know the dark secrets in Joe's past, secrets so soul-wrenching, they've drained him dry. With nothing left to give, Joe's determined to live his life alone and he breaks Violet's heart.
Crushed by Joe's betrayal, Violet comes to terms with the fact that, no matter what signals he gave, Joe was not theirs to win. But Violet's husband's murderer is obsessed with her and heartbreak again haunts the door of the Winters home. When it does Joe is forced to face the knowledge that he can't fight Violet's pull, she's under his skin and filled him full to bursting.
Joe needs to win her back and put his life on the line to keep Violet safe. But, having had it all once, can Violet endure losing Joe?
My rating: 5 of 5 stars
Cant for the life of me figure out why I stopped reading this series after the first book. Whew this was such an emotional book with two characters that had such loss in their lives. Their journey together was not any easy one – plenty of angst and sorrow – but I couldn't put the book the down wanting to see how these two were going to work it out. As always there was great secondary cast of characters – loved both of her teenage daughters who play such a big part in the book too.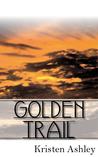 Golden Trail by Kristen Ashley
Tanner Layne and Raquel Merrick fell in love young, hard and fast and both of them knew a beautiful life they thought would be forever.
Until Rocky left Layne, no explanation, no going back.
Layne escapes The 'Burg only to come back years later because his ex-wife has hooked herself to the town jerk and Layne needs to make sure his sons get raised right. Layne manages to avoid Rocky but when Layne gets three bullets drilled into him while investigating a dirty cop, he can't do that because Rocky stops avoiding Layne. They make a deal to work together to expose the dirty cop but they have no idea the strength of their enduring attraction or the sheer evil at work in The 'Burg.
As Tanner Layne and Raquel Merrick play their game and dance around the pull that draws them together, Layne has to discover the dark secrets buried so deep in Rocky's heart she doesn't even know they're there at the same time untangle a sinister web of crime so abhorrent it has to be stopped… at all costs.
And to do it, Layne has to enlist everyone, including his ex-CIA mentor, Rocky's detective brother, the town's unpredictable informant and Layne's two teenage sons all the while stopping Rocky from doing something crazy and keeping their game secret so Layne won't get himself dead.
My rating: 4 of 5 stars
Not my favorite in the series and I think that was because of just getting Tanner Layne's POV through the book. The highlights were the secondary characters and seeing where they were at in their lives from the previous books.
Games of the Heart by Kristen Ashley
From the balcony of his house, Mike Haines can see the quiet, commonplace beauty of the Holliday farm. But what he remembers is the little sister of his high school girlfriend, Dusty who grew up there. As a teen, Dusty had gone off the rails but when she was a kid, she was sweet, she was funny and she had a special bond with Mike. But after high school, she took off and Mike never saw her again.
Then tragedy strikes Dusty's family, she comes back into town and Mike thinks she hasn't changed back to the sweet, funny girl he knew but instead continued to be selfish and thoughtless, leaving her family alone to deal with their mourning. So he seeks her out and confronts her in an effort to understand what went wrong and to force her to sort herself out.
He finds out quickly he's wrong about Dusty Holliday. Very wrong. And right after Mike discovers that, the bond they had years before snaps back into place in ways he would never suspect.
But Mike Haines had a bad marriage then he played games of the heart for a good woman. And lost. In order to protect himself and his kids, he's cautious, he's careful to read the signs and he's not interested in finding a woman he has to fix.
Then he learns what happened to Dusty and he thinks she needs to be fixed. He swings, he misses and in this new game of hearts, for Dusty, Mike just got strike three.
My rating: 5 of 5 stars
Games of the Heart was a beautifully written love story. The bonus of that is it wasn't just one – it was two. I laughed and I cried more than once through the journey of these two couples. Fans of this author know she can write dark alpha males but neither of the two male leads in this were those. They were just perfect. Oh they made mistakes but not big angsty ones. Great series that each story that's in it is so different from the last. Love that and cant wait for the next book.
Since his brother's death, Benny Bianchi has been nursing his grudge against the woman he thinks led to his brother's downfall. He does this to bury the feelings he has for Francesca Concetti, his brother's girl. But when Frankie takes a bullet while on the run with Benny's cousin's woman, Benny has to face those feelings.
The problem is Frankie has decided she's paid her penance. Penance she didn't deserve to pay. She's done with Benny and the Bianchi family. She's starting a new life away from Chicago and her heartbreaking history.
Benny has decided differently.
But Frankie has more demons she's battling. Demons Benny wants to help her face. But life has landed so many hard knocks on Frankie she's terrified of believing in the promise of Benny Bianchi and the good life he's offering.
Frankie's new life leads her to The 'Burg, where Benny has ties, and she finds she not only hasn't succeeded in getting away, she's doesn't want to.
My rating: 4 of 5 stars
3.5 stars
This book picks up where book 2 ended for Frankie and Benny. Frankie is just getting out of the hospital and Benny decides he's had enough of avoiding his feelings for her and takes her home to watch over her as she continues to heal. Frankie is overwhelmed with the attention not only Benny is giving her but also his family who all but shunned her after the death of her boyfriend and their son/brother Vinnie seven years ago. For me the resolution of the pain they caused her for 7 years came way to quick.
I don't want to bash this book because I love this author and the writing is seamless and there were parts of this story that were nice to get to revisit. Getting to experience more of Cal and Vi through their engagement, marriage and birth of their daughter was wonderful but other than some milestones like that the majority of this book was about nothing special, just the day the day life of Frankie and Benny with no real angst or suspense. When a book is over 500 pages there needs to be something to keep your attention.
In the end, I am happy that Frankie and Bennie got their HEA – it was way over due and this also felt like a continuation of Cal and Vi's book which I loved.